The general public and policy leaders are often unaware of the human toll of excessive fines and fees that exceed people's ability to pay them. Nor do leaders realize that solutions often exist that work better, both for government and for people. To inform and build awareness, we publish issue briefs, op-eds, and generate media coverage on our key findings, recommended solutions, and of the inequitable burden of these fines and fees.
Key Publications Include: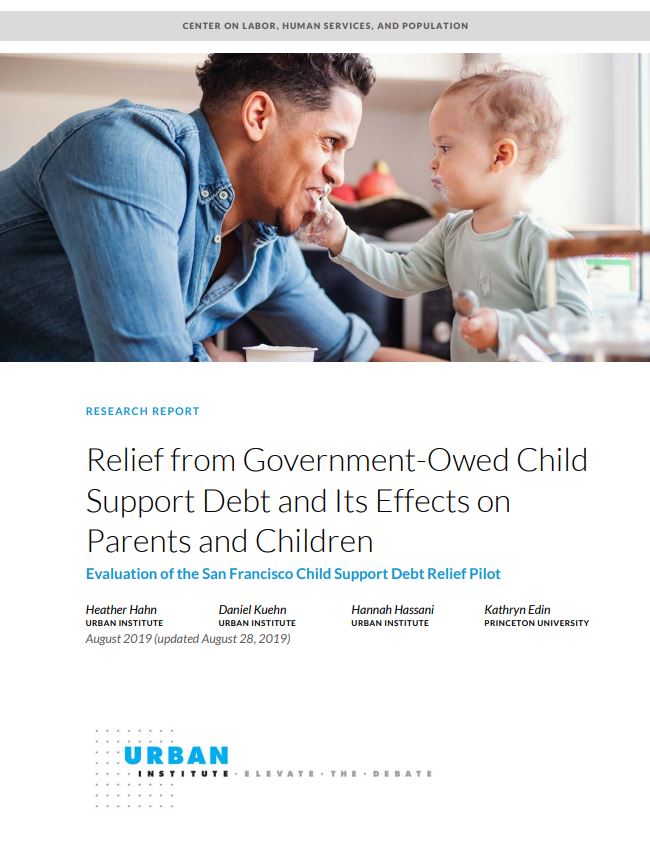 Relief from Government-Owed Child Support Debt and Its Effects on Parents and Children. For many low-income families in California, the majority of their child support payments go to the government, not to children. In California, when a single parent signs up for public assistance, such as Medi-Cal and CalWORKs, they must sign over the rights to their child support payments to the government. Only the first $50 of their child support payment goes to their family. The rest goes to the government to pay back the cost of public assistance. Last year, parents in California paid $368 million in child support payments repay the cost of public benefits. When a parent falls behind on payments, they begin to accrue debt to reimburse the government, and penalties quickly set in. They are charged ten percent interest and their driver's license can be suspended. Requiring parents to pay back public assistance takes money away from low-income children and widens existing inequalities by disproportionately impacting low-income families of color. Last year, the Financial Justice Project partnered with the San Francisco and State Department of Child Support Services and two local funders, The Walter and Elise Haas Fund and Tipping Point Community to launch a debt relief pilot. After attending a workshop, the pilot participants had all of their public assistance payback debt erased, ensuring that all future payments would go to their kids. The pilot leveraged a statewide debt forgiveness program, called the Compromise of Arrears Program. The Urban Institute released an evaluation of the pilot project. They found that parents who had their public assistance payback debt forgiven made more consistent child support payments and more resources went to children. They also reported reduced stress, fewer barriers to employment; improved credit scores, more stable housing, and more control over their finances. The pilot project was featured on National Public Radio's KQED of Northern California and on NPR's The Takeaway.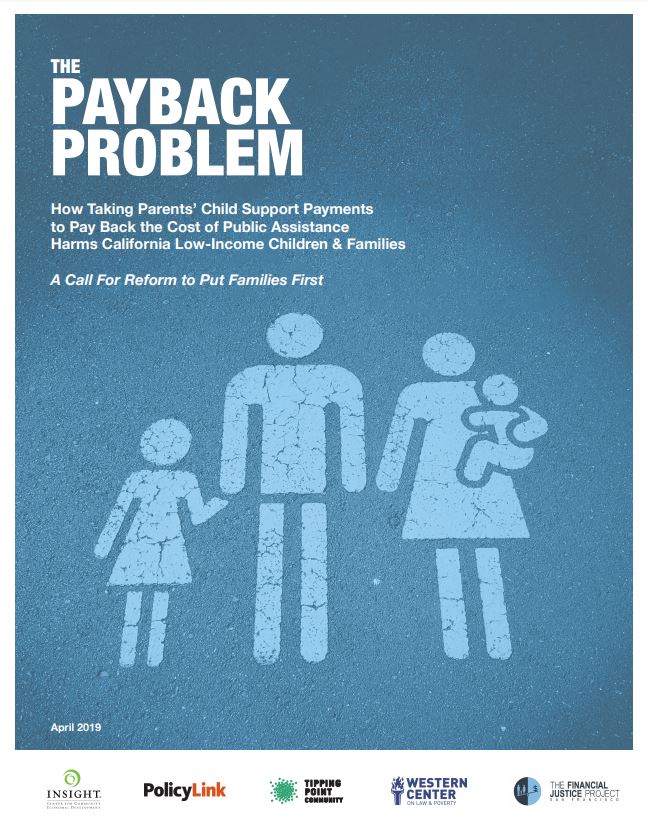 The Payback Problem: How Taking Parents' Child Support Payments to Pay Back the Cost of Public Assistance Harms California Low-Income Children & Families. The report reveals that every year, hundreds of thousands of low-income children do not receive their full child support payment. That's because low-income families only receive the first $50 of a parent's monthly child support payment; the rest is redirected to pay back the cost of public benefits, like Medi-Cal and CalWORKs. In California, 70% of outstanding child support debt is owed to the government, not to children. In the report, we find that requiring parents to pay back public assistance takes valuable resources away from children living in poverty, disproportionately harms children of color, and sets low-income parents up to fail. The penalties that kick in when someone can't afford to pay – including ten percent compound interest, suspending driver's licenses and incarceration- are counterproductive and set low-income parents up to fail. Momentum is growing for reform, and several statewide bills have been introduced to make the system work better for low-income families. The report, and potential legislative changes, were featured in an op-ed authored by Financial Justice Project Director Anne Stuhldreher in the Los Angeles Times: Why Child Support in California Isn't Going Where It's Needed Most.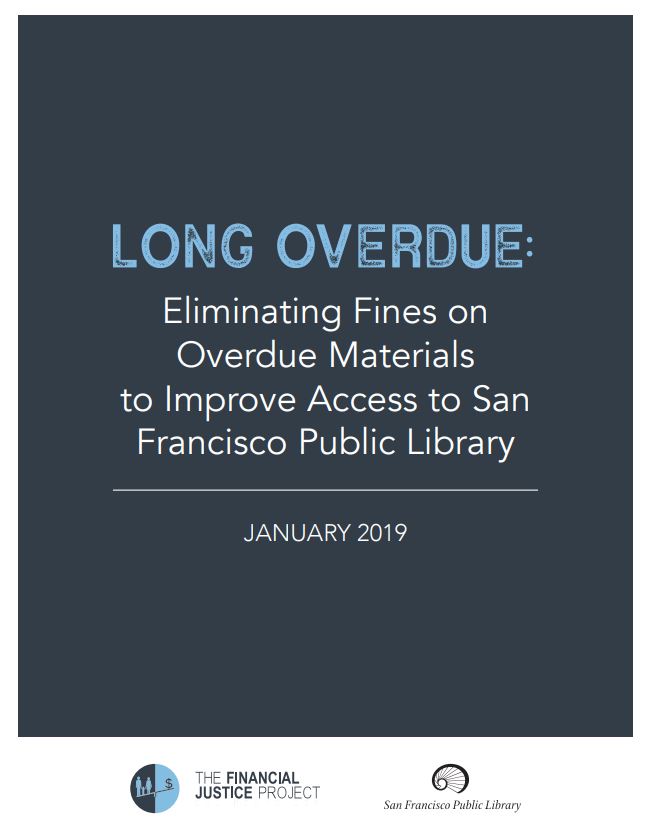 Long Overdue: Eliminating Fines on Overdue materials to Improve Access to San Francisco Public Library. The Financial Justice Project partnered with the San Francisco Public Library to publish a report on the impact of the library's overdue fines. The report outlines how fines disproportionately impact low-income residents, African-American communities, and San Franciscans without college degrees. The report finds that patrons across the City, regardless of income, miss return deadlines at similar rates. However, patrons in low-income areas face much more difficulty in paying the fines and fees associated with overdue items. As a result, overdue fines can widen existing inequalities. Roughly 11 percent of the Bayview's adult cardholders are blocked from accessing library materials, which is more than three times as many as in high-income locations. Across the City, branches that serve lower-income populations have a greater share of blocked patrons. As libraries across the country are going increasingly going fine-free, research shows that overdue fines are not an effective tool to encourage returns, and the fiscal impact of the move would be minimal. The report also recommends several administrative changes to help increase the return rate, including sending out more reminders, and shortening the timeframe before a book needs to be replaced or paid for. The Library Commission will be hearing a proposal to eliminate overdue fines at their next meeting on Thursday. 
Criminal Justice Fees: High Pain for People, Low Gain for Government. In May 2018,  San Francisco became the first county in the nation to pass legislation to eliminate administrative fees charged to people exiting the criminal justice system. This report outlines how 1) the fees are assessed to low-income people who cannot afford to pay them 2) increase barriers to reentry and the odds of recidivism; and 3) are an anemic counterproductive source of revenue for the city and county of San Francisco. The report outlines the our key findings on the human and fiscal impacts of the fees; the fee collection rates;  the process to advance this legislation, and recommendations for other counties considering similar reforms.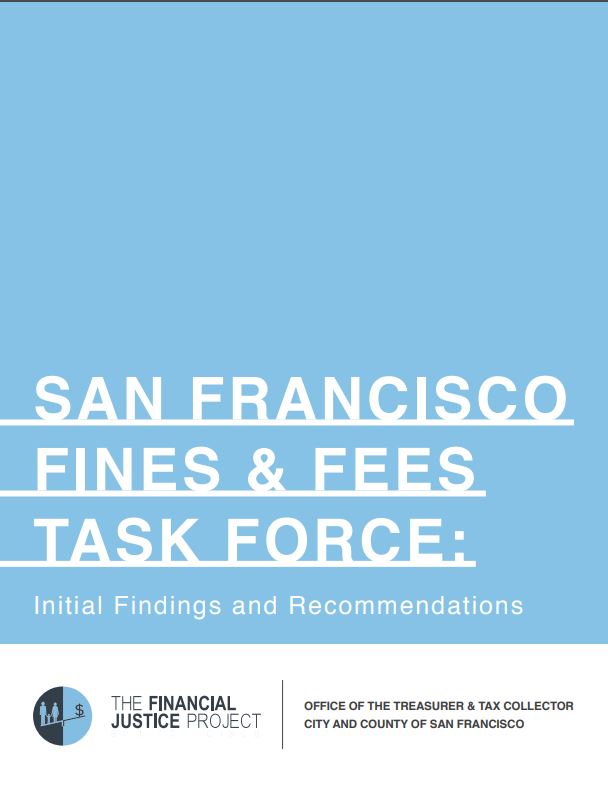 San Francisco Fines and Fees Task Force Report: Initial Findings and Recommendations. Our first year was about identifying and understanding community pain points, generating buy in from key players, advancing doable solutions, and getting initial traction on reforms. We also worked to raise awareness of the problem and potential solutions. We formed and chaired a countywide San Francisco Fines and Fees Task Force with participation from the courts, key city and county departments, legal service providers, and community groups. When reviewing fines and fees, our goals were to hold people accountable, while ensuring that consequences are proportionate to the offense and do not disproportionately impact low-income San Franciscans.  In May of 2017, we released a report outlining our initial findings and recommended reforms in several policy areas, including transportation fines and fees, quality of life citations that are often issued to people struggling with homelessness, and child support debt owed to the government.
Do the Math: Money Bail Doesn't Add Up for San Francisco.  In June of 2017, the Financial Justice Project released a report on San Francisco's system of money bail. The report illustrates how this privatized system, operating at the heart of the criminal justice system, strips $10-15 million a year in nonrefundable bail fees from low-income neighborhoods and communities of color. The report outlines the key problems with the money bail system in San Francisco, and outlines potential solutions for reform. The report was covered by KQED's California Report, the San Francisco Chronicle, the San Francisco Examiner, and ABC7 news.